My name is Carrol May Nelson, and I am a culturally diverse children's book author of the Dolly May series. Promoting the representation of culturally diverse children's literature which aims to support children's education, add value to children's academic attainment and help them succeed in the 21st century and beyond.
Over the coming months, I'll be sharing inspirational stories and ideas that focus on the power of reading and inclusivity, along with ideas on how to encourage children to read and improve their literacy, plus sharing information about my new books and products.
I wanted to inspire parents in the different ways that they can play with their children and use their imaginations to create new memories. I am passionate about children achieving their full potential and I hope that'll you'll find these posts of interest and I welcome your thoughts and feedback.
The Power of Story Telling and the Value of Inclusivity in children's book.
By Carrol May Nelson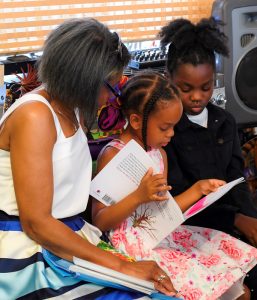 Stories reflect the way we understand life and help us to construct our future. Stories are what lies at the heart of every culture. All cultures around the world have stories, song, art, music, dance, and religion. According to the Scholastics Kids & Family Reading Report 2019 7th Edition, it has been identified that from 3 months old babies enjoy positive stories. Stories can make us feel good, give us great confidence, pass on values, educational and business success. Reading with your children regularly from birth is just as important as caring for our children. Positive storytelling helps our children to develop listening skills, build vocabulary, helps them to concentrate, join in and learn how to cooperate and discover new things. The research shows children also respond positively to books that amuse them and make them laugh. Combined, all these elements help them to build up an imaginative world of limitless possibilities much like beginning a new book.
Value of inclusivity in children's world:
Research from the Centre for Learning in Primary Education (CLPE, 2018) tells us that learning to read and write is a social process and reader identity is a key factor in helping children to be successful. It is therefore important that all children in our society are represented in what is available for them to read.
The books we read as children have the potential to shape our minds and lives. This has perhaps best been described by author and academic Rudine Sims Bishop in her article 'Mirrors, windows, and sliding glass doors'. Scholars have long noted this 'mirroring' or 'modelling' role of children's literature in the lives of children. Reading is not simply a tool to build literacy, it is an important way for children to understand their place in the world. To use Bishop's analogy, "children's books can act as mirrors, to reflect the readers' own lives, but also as windows so readers can learn about, understand and appreciate the lives of others." The presence of diverse characters in children's literature can influence how readers form their identity and or shape their perceptions of others, in relation to the world around them. For example, "when children see themselves reflected in the books they read, or when the images they see are positive they learn a powerful lesson about how they are valued in the society of which they are a part".
The CLPE 2018 research findings reported that out of 11,011 children's books published in 2018, only 743 featured BAME characters and these figures are alarming. 32% of children of school age in England are from BAME backgrounds, yet only 1% of books written for them have a BAME character in the centre. When I read these statistics, I wonder about the cost to the imaginations of all our children, and particularly to BAME children.
Research tells us that learning to read and write is a social process and reader identity is a key factor in helping children to be successful. It is therefore important that all children in our society are represented in what is available for them to read. The CLPE believes in every child's right to access quality literature that honours, values, and reflects the reality in which they live, and which also offers perspectives on lives and contexts beyond their own. BAME characters need to be better represented within children's literature in general and better reflecting the UK population, not as a tick box exercise but as a meaningful and accurate representation of the interconnected, diverse society within which our children are growing up. Here are the CLPE's key criteria for inclusivity:
Content should be balanced, allowing for cultural specificity without reducing characterisations to derogatory stereotypes or a two-dimensional shorthand.
BAME characters need to be well developed and authentically portrayed. They should exist across a range of genres and within both fiction and non-fiction, allowing readers to experience the full spectrum of emotions when enjoying these representations.
Non-fiction beyond the early years needs to be more representative, ensuring that fully representative texts accompany children at each stage of their development and growth.
Books have the power to enrich the lives of children as well as our own, whilst supporting positive mental well-being. When children are introduced to books from a young age it encourages them to develop a love of books and enjoy reading, enabling them to succeed in school, work, and life. It is therefore essential that we do everything we can to inspire children to fall in love with reading, as this can have lasting rewards.
Connect with me Twitter @carroljay11 Instagram @carroldollymay